Warsaw – Poland's Capital where the old and new merge
The capital of Poland, Warsaw, has special energy and beauty. Imagine being in a place where you will have a feeling like you are in the 15th century, World War II and 21st century at the same time. The whole city is like a roller coaster for different times and periods. It is true when people are saying that Warsaw is a place where merge the old and new spirit of history and humanity.
I have been in Warsaw three times and this city is surprising me every time when I'm there. I have fallen in love with this Polish city, and here is why. When I was in Warsaw for the first time, I took a city tour with a tour guide. That was a great chance to learn more about the history of Warsaw, the culture, lifestyle, education, economy and more. This is an amazing city that will take your breath away with every statue, building, restaurant and bar.
My second and third time in Warsaw were something special. Even if I was there for a business, I had the opportunity to feel the magic of this city as a local. After a tourist, I become a traveller. So, I will not explain to you the city as a tour guy. I will give my best to guide you around Warsaw in a simple way. Most importantly, I will give my best to make you feel as a local while you are reading about the most interesting things that Warsaw can offer to foreigners. So, let's start!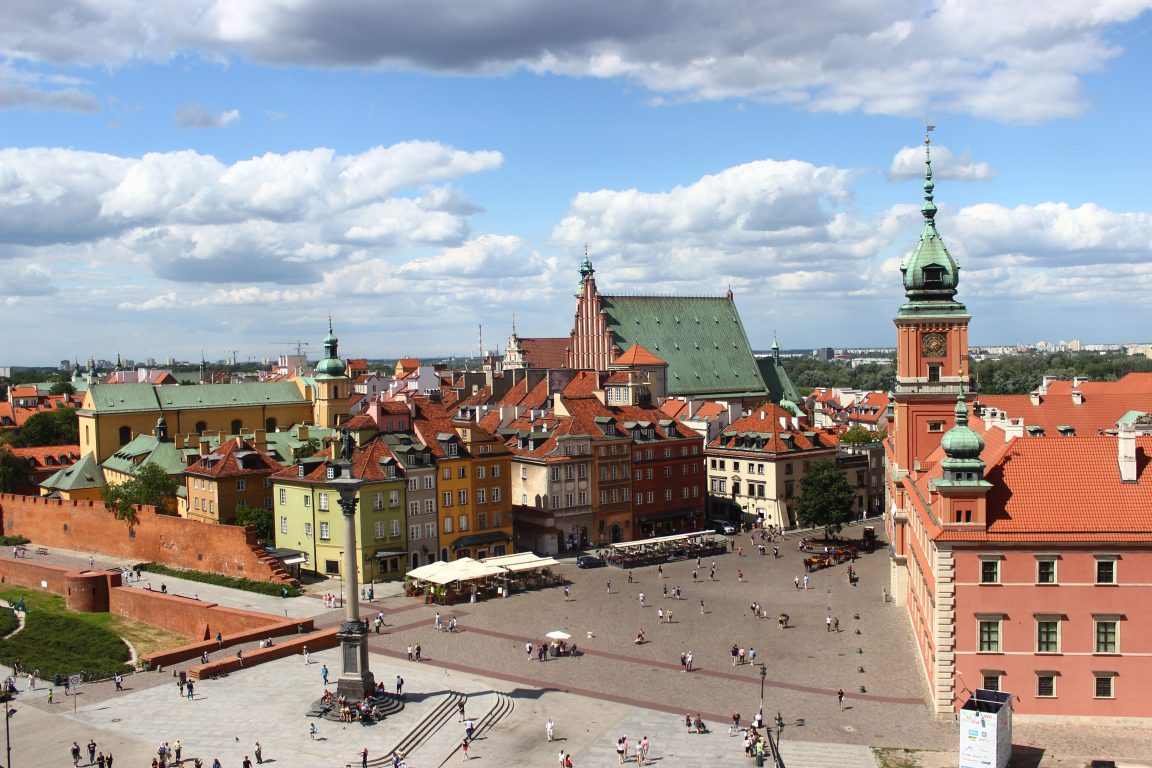 Usually, I'm travelling by plane to Warsaw. When I'm arriving at the airport, I'm searching for the train who will take me to the main station (Warszawa Centralna), which is almost in the city centre of Warsaw.
Right in front of the Warsaw main station is one of the most famous buildings in Warsaw – the Palace of Culture and Science. This building is like a trademark for Warsaw and even for whole Poland. It is the tallest building in the capital of Poland and all of Poland. This beautiful building is a gift from the USSR and is an example of Social Realist architecture. People are seeing the Palace of Culture and Science in two ways: as a masterpiece and as a symbol of kitsch. For me, this is a special building, because when you go to the last floor, you can see the entire city, which is just fabulous.
The Palace of Culture and Science is beautiful from inside, too. When you are entering the building you can find a huge Congress Hall, several well-known theatres, a modern cinema, a swimming pool, a disco, a restaurant, and a casino. This place is a host for many cultural events in Warsaw such as the Jazz Jamboree Festival, the Warsaw International Book Fair, and the International TT Warsaw Tourist Fair.
Did I mention that I was in Warsaw for a business? Well, most of the international companies are located on a downtown area which is known as Sródmiescie. These modern skyscrapers are centred around the Palace of Culture and Science, and they are presenting the modern spirit of Warsaw. Here is the Oxford Tower (or also known as The Elektrim). This building was built in 1979 and was the first really tall modern skyscraper in Warsaw. Also, here is the Prosta Tower which is a modern, A-class office building. This building is just 500m away from the Palace of Culture and Science and is making the new city of Warsaw really beautiful and modern. Around these modern building is also Novotel, a high modern building that was compared in 1974 and has 33 floors.
It's so amazing to do walk around Sródmiescie area and Marszalkowska that is perhaps the busiest street and area in the centre of Warsaw and take pictures of the Palace and its new and modern skyscrapers.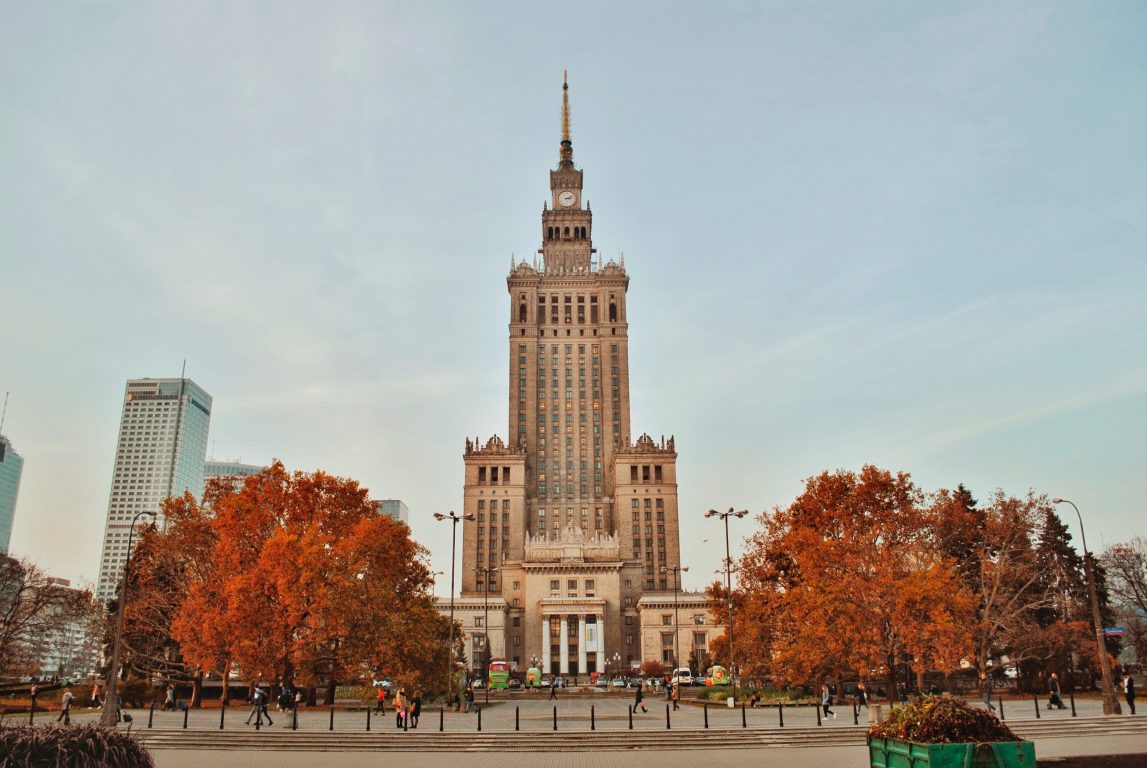 While you are walking and leaving the New Town in Warsaw, on the border to the Old Town is the Blue Tower built in 1991 which has 25 floors and is 100 m to the roof.
The Old Town of Warsaw is a magical place that will bring you back to the 15th century. Walking on Zamkowy Square, you can notice the Royal Castle and St. Anne's Church, which are one of the most famous places in the Old Town. This place of Warsaw is hiding many historical secrets. During World War II, around 90 percent of the Old Town area was razed to the ground. The reconstruction took many years, but finally, the city and people in it make it and Warsaw had earned a place on UNESCO's World Heritage List.
One of the most wonderful places in the city, which I left it as the last destination in your tour around Warsaw, is Old Town Market Square or (Rynek Starego Miasta). This place used to be Warsaw's main square and all events and markets were held here. This amazing place is founded in the late 13th century and walking around the square, you can still feel the spirit of this period in the air.
Here you can just sit on a bench and watch the birds or all locals and tourists who are taking funny pictures from themselves, their family and friends. Or, you can do the same by sitting in one of the restaurants or bars that will offer you the most breathtaking view of Warsaw's old spirit.
Also, one of the locals told me that this place is having an interesting legend. It's about a basilisk that have lived somewhere in the area's cellars, where it is guarded hidden treasures. The gaze of the basilisk, which turned men to stone, killed everyone who attempted to reach the treasure. Finally, the basilisk was defeated when a wandering tailor showed it a mirror. One of the restaurants in this Old Town Market Square is named after the monster, and here you can find a picture of it.
If you decide to visit the capital of Poland, you will definitely fall in love with it. Also, you will enjoy the hospitality of Polish people. They really know how to make your trip fascinating, fun and useful. I have learned that Poland is a country where its history taught people to value stability and certainty over all else. They study hard, work hard, have a family and lead a stable life. They really know how to enjoy all benefits that their country is giving to them. That's why they are so friendly with everyone that will decide to visit them and learn more about their history and values.