We are now launching the Be Original Tours Growth program. The BOT growth program is a service for our guides, that only can be activated by buying credits. As long as you have a positive credit balance, you are part of the program. The details of the program are the following:
Your tour will be added to our ad campaigns, and you will notice a large increase of bookings after about one week of buying your first credits.
You will continue to receive as many bookings as possible until you run out of credits. We will try to empty your credits as fast as possible by getting you as many bookings as fast as we can.
We will help you to improve your listing so that your conversion rate is the highest it can be. We have access to exclusive market data and know why guests book a certain tour. We can give you these insights and help you to make your tour as attractive as possible.
We can either make changes to your listing ourselves or give you recommendations, so you can change it the way you want. After making our recommended changes, please wait 2 weeks to see its full effect and don't change anything back during this time.
You will have access to our exclusive marketing support who you can reach on this email:

[email protected]

The ad campaigns need about two weeks to optimize and then another 2 months to really show how many bookings per day you can get. This is due to the current situation that tourism still did not recover to it's fullest after corona, and many guests book tours up to 2 months in advance. So you will need to have the ad program running for 2 full months to really see how many bookings you can possibly have in a single day though our service.
The average cancellation rate of our walking tour guests is about 30%. When we see that you take care of the other 70% of guests and no complaints happen, we will give you credits to cover the no shows. If you buy 200 credits, which equals 100 guests, you will be getting 60 credits on top, which equals 30 guests.
How the credit system works
Your account is limited to 5 bookings for free per day. In order to have your listing featured and maximize your volume of bookings, you will need to buy credits. Each 2 credits bought will be used in exchange for a single booked guest in your calendar. For example, you buy 100 Credits, this equals 50 guests booked in your calendar.
Each guest usually tips 10 to 50 Euros at the end of the tour. For example, if you buy 100 Credits for 200 Euros. On tour this equals 100 booked guests and 1000 to 5000 Euros income in tips depending on your performance as a tour guide.
Also, you can see your credit balance by clicking on the left of your dashboard. If you want more information about all the credits transactions, you just have to click on the "Credit Transactions" section of the dropdown: https://beoriginaltours.com/my-account/view-history/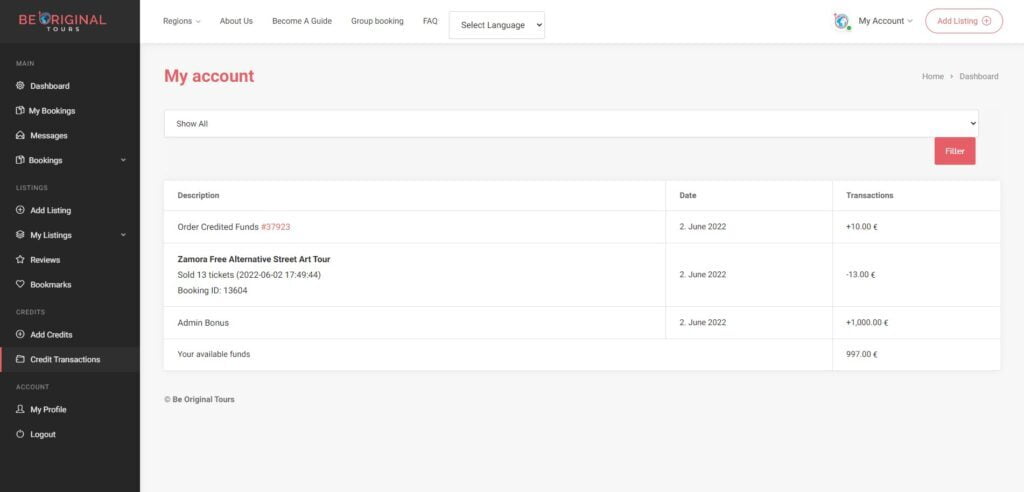 How to Add Credits to your account and check balance?
By clicking on the left of your dashboard "Add Credits" Here https://beoriginaltours.com/my-account/add-credits/ in the drop-down select "Deposit funds" Select the amount of credits you choose and simply add "funds".
Check my balance?
Simply check select "Credit Transactions" in your dashboard here https://beoriginaltours.com/my-account/view-history/ and choose "Select all" to view credits and transactions.
You are Set and ready to increase bookings. Enjoy!
Be Original, have fun touring!