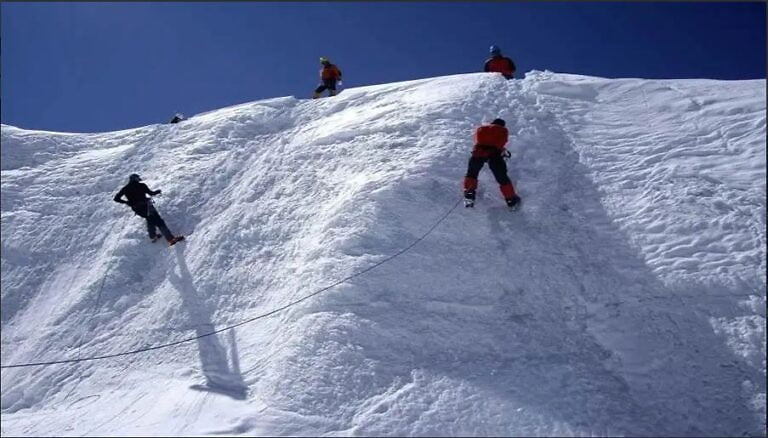 The most popular peak climbing in the Everest region is Mera Peak Climbing. The highest trekking mountain in Nepal is formally recognized as the Mera Peak (6,461 m/21,190 ft.). A terrific expedition that combines climbing and walking at the same time is the Mera Peak Climbing.
A true sense of the Himalayas is offered by the Mera Peak Climbing in Nepal, which offers breath-taking vistas of the world's highest peaks, including Mt. Everest, Makalu, Lhotse, and Cho Oyu, as well as Mt. Kanchenjunga in the far east. The Hongu and Hinku valleys of the Khumbu region can be reached by taking the incredible Mera Peak Expedition.
Mera Peak Climbing in Nepal provides you with a wilderness hike along with an unending mountaineering adventure, breathtaking views of the natural world, a picturesque landscape, snow-capped mountains, an alpine environment, high hills, flora and fauna, colorful Rhododendron and pine forest, glaciers, moraine, beautiful Sherpa's settlements with their simple way of life, culture, and traditions, and more.
Highlights of Mera Peak Climbing:
Climb Nepal's highest "trekking peak," which is 6,661 meters (21,854 feet) above sea level.
From Mera Peak's summit, you can see the highest mountains in the world in a 360-degree panorama.
Amazing climbing and trekking excursion in the Everest region.
Beautiful Sherpa settlements with their traditional, agrarian way of life
Wilderness hike through uninhabited, far-off valleys and vibrant rhododendron woods
Combined teahouses and camping expedition for a life-long memory
Trip Facts:
Price: $2790
Duration: 18 Days
Maximum Altitude: 6470 m
Spring (March to May) and Autumn (September to November) are the ideal times to climb Mera Peak. Your understanding of different climates, weather patterns, and climbing tools & gears will be useful on this challenging trek to Mera Peak.
Categories
Features
Regions
Location
Similar Listings
Only guests who have booked can leave a review.