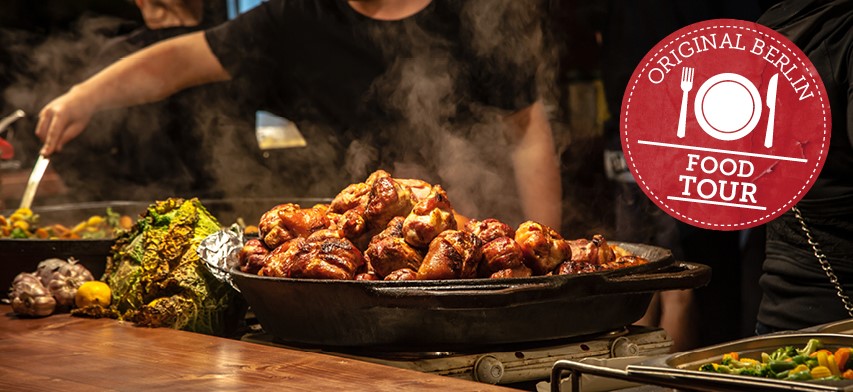 Embark on a tantalizing journey through the heart of Germany's vibrant capital and discover a world of flavors that define Berlin's culinary landscape. Introducing The Original Berlin Food Tour – a gastronomic adventure that promises to awaken your taste buds and immerse you in the essence of Berlin's rich food culture like never before.
Picture this: the bustling streets of Berlin, each corner whispering secrets of delectable delights waiting to be savored. Join us as we unravel the hidden gems and iconic eats that make Berlin a food lover's paradise. This isn't just a tour; it's an invitation to savor the essence of Berlin through its most mouthwatering creations.
Our journey commences in the heart of the city, a bustling hub of history and culture. But we won't linger there for long. Soon, we'll whisk you away to the culinary havens that locals frequent – those well-kept secrets that infuse Berlin's neighborhoods with character and flavor. With the guidance of our passionate local foodies, you'll traverse through six or more handpicked venues, each a portal into the soul of Berlin's gastronomic scene.
WHAT TO EXPECT
6+ food venues
free samples
local guides
Berlin Food
One of a kind tour
Imagine sinking your teeth into freshly baked treats from a local bakery, the aroma of tradition wafting through the air. But that's just the beginning. Berlin's culinary tapestry is woven with threads of international influences, reflective of the city's diverse populace. You'll relish an array of cuisines that mirror the cultural mosaic of Berlin, each dish telling a story of its own.
As you indulge in these culinary delights, our expert guides will paint a vivid picture of Germany's gastronomic evolution. They'll regale you with tales of the past, the secrets behind the flavors, and what sets Berlin's cuisine apart from the rest of the world. But it's not just about history – it's about the present too. Our guides are your insiders, sharing invaluable tips and recommendations for navigating Berlin's contemporary food scene, ensuring your every meal here is a delight.
This is more than a food tour; it's a sensory exploration, an opportunity to forge a connection with Berlin's soul through its cuisine. It's a symphony of tastes and textures, a journey that immerses you in the heart of the city's food culture.
Delve into the culinary specialties of Germany in the most unforgettable way possible – through The Original Berlin Food Tour. Join us as we celebrate Berlin's culinary mosaic, one bite at a time. Your ticket to this all-inclusive adventure awaits – come, let's feast on the flavors of Berlin together.
THE ORIGINAL BERLIN FOOD TOUR
IS ABOUT 5 HOURS AND FEATURES:
BERLIN FOOD FROM HISTORY TO MODERN DAY
FREE TASTINGS
GREAT LOCAL GUIDES
6+ VENUES
MUCH MUCH MORE
Embark on an extraordinary culinary journey with The Original Berlin Food Tour, meticulously crafted by passionate local gastronomes. Every twist and turn of this expedition is infused with the distinct charm of our guides, each curating a unique route born from their personal gastronomic affections. As the seasons dance by and local festivities paint the cityscape, the tour evolves, ensuring every experience is a one-of-a-kind adventure.
Prepare to tantalize your taste buds and immerse yourself in Berlin's vibrant food scene, where authenticity and innovation collide. It's a feast that transcends the plate, capturing the heart and soul of the city's culture. To join this tantalizing escapade, keep your valid AB travel pass handy, ensuring seamless voyaging through both flavors and locales.
Anticipate queries or seeking to savor this experience with a larger group? We eagerly await your contact via email or phone, ready to weave unforgettable memories for you and your companions. Your voyage into Berlin's culinary wonders begins here, promising not just sustenance, but a symphony of flavors orchestrated exclusively for you.