Welcome to the ultimate New Year's Eve bash in Berlin!
Get ready for the Original Berlin New Year's Eve Pub Crawl – your pass to the most happening New Year's celebration in the city. Berlin goes all out for New Year's (known as Silvester here), and this year's extravaganza is no exception! With huge festivities each year, it can be a challenge to secure a spot in the clubs or bars on the busiest night. That's why we've crafted the perfect solution – an all-inclusive New Year's Eve Pub Crawl.
We're taking you through Berlin's liveliest nightlife spots, building up the excitement until the clock strikes midnight. But wait, there's more – we've got a fantastic 2-hour OPEN BAR session to fuel your night! Enjoy free drinks and champagne before we dive into one of Berlin's most colossal nightclub bashes. With the freshest beats, top-notch drinks, and an atmosphere of epic revelry, this is the wildest New Year's party in town!
Join us and ring in the New Year in style. Don't miss out on this unforgettable night!
WHAT TO EXPECT
VIP Guestlist Entry
2-Hour Open Bar Party
Free Champagne
Free Jagermeister shots
Surprises and Games
THE 2022-2023 ORIGINAL NEW YEAR'S PUB CRAWL INCLUDES:
VIP Guest list entry reserved in one of Berlin's best clubs DJ Line-Ups
2-hours of OPEN BAR (DRINK-ALL-YOU-CAN) with Long drinks, Local Draft Beer, Vodka, Tequila, and Jäger Shots.
Complimentary Prosecco + Fireworks to welcome in the New Year at midnight.
Drinks & Shots specials in ALL LOCATIONS
Free Entry to all our Berlin NYE Party Locations
Berlin Nightlife Guide
No waiting lines & no worrying about getting in!
YOUR TICKET TO A ONE GREAT, ALL-INCLUSIVE NEW YEAR'S EVE NIGHT OUT IN BERLIN!
PRICE: €69
CELEBRATE BERLIN SILVESTER!
This ticket is all-inclusive and includes the 2-hour open bar and V.I.P. free club entry! We have some surprises planned for the night, and along the way, we will stop at some other local Berlin pubs. With drink specials at every New Year's Party and a free bar leading up to midnight. After we have brought in the new year, we will head into a world-class nightclub FREE and no waiting in line! We have special surprises planned and equip all of our guests to enjoy Berlin new years like it was meant to be enjoyed.
Get into our parties free with your ticket purchase!
It's a Berlin New Year's Eve / Sylvester / Silvester /
TRYING TO COME LATE? GIVE US A CALL!
+49 157 838 93416
We begin at a lively bar with drink specials and move through a top Berlin nightlife zone. The streets and bars will buzz for New Year's. Then, it's off to another party for fireworks and a 2-hour open bar. Later, we'll hit a famous club to dance in the new year!
We expect over 200 guests, and unfortunately, we will definitely sell out
Call +49 157 838 93416 for info and help on booking
GENERATOR BERLIN MITTE, ORANIENBURGER STRASSE 65 ,10117 ,BERLIN
Book Online at €69
GOT A GROUP BOOKING OR ANY QUESTIONS, LET US KNOW! WE WOULD LOVE TO HELP!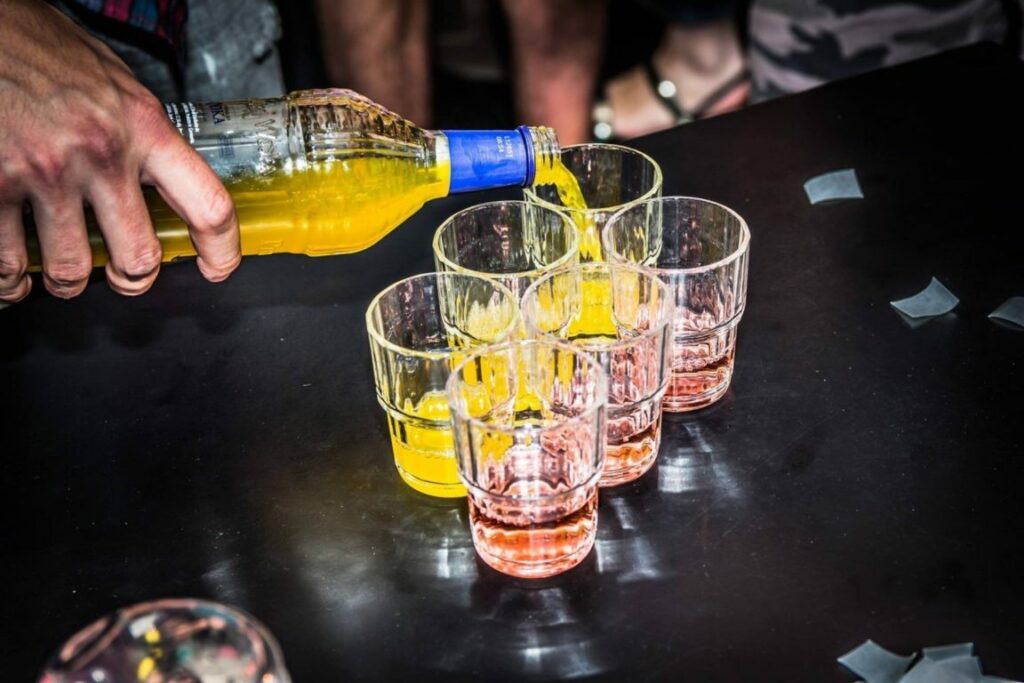 EVEN THE LOCALS GET SURPRISED BY HOW MUCH BERLIN LOVES SYLVESTER!! (NEW YEARS)
​